The Satellite2017 Conference? Terrific!
March, 2017 – Year in and year out, the annual Satellite conference delivers – and Satellite2017 was no exception. The 2017 theme "Explore the Connected World" set the tone as an international group of attendees and manufacturers re-connected and immersed themselves in "all things satellite." It was a terrific conference – kudos to the conference sponsors and hosts.
To everyone who stopped by to say 'Hello' and talk shop – thank you! We appreciate your interest in Greenray Industries and hope to speak with you again soon.
Home Is Where The Suitcase Is (NOT!)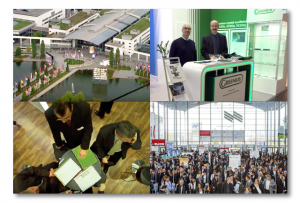 November, 2016 –  International trade shows – the glamour, the excitement, the fine dining and nightlife! London, Baltimore, Munich! We'll give you all that – but it sure is good to be home again.
A busy Fall show schedule kicked off in London this October with European Microwave Week, Europe's leading microwave conference. Record attendance (over 4900, total) and fair weather combined for a most successful event. "Microwaves Everywhere" proved a fitting theme, with microwave technology workshops, technical papers, roundtables and exhibitors reflecting the depth and breadth of today's microwave industry.
November 1st found us in Baltimore, Maryland for MILCOM 2016 and the 35th anniversary of this international conference for military communications. Attended by leaders in industry, government and academia, MILCOM uniquely focuses on the challenges of command, control and communication in a rapidly changing cyber world.
With just enough time to repack the suitcase we were off to Electronica 2016 and the beautiful city of Munich, Germany – along with the 72,999 other attendees and 2,900+ companies from around the world. For 2016, the largest electronics trade fair in the world adopted the motto "Connected Worlds – Safe and Secure." As a designer and manufacturer of products for mission-critical apps for business and industry, we appreciated that – and so did attendees, 99% of whom gave the fair a good to excellent rating. A great industry event that just keeps getting better – we'll see you in 2018!
To everyone that stopped by to visit Greenray on the road – thank you. We appreciate your interest and hope to see you again soon. And be sure to check back right here for our 2017 calendar of events – it's sooner than you think!
YH1485 OCXO Introduced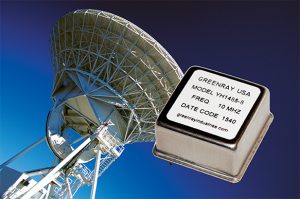 March, 2016  Greenray's new YH1485 OCXO is designed for use as a reference for radar, instrumentation, and military applications that require very low phase noise in order to optimize system sensitivity.
Available from 10 to 100MHz with sinewave output, and best stability of ±0.05ppm, the YH1485 delivers phase noise performance below -175dBc/Hz and excellent short and long term stability. Optional reduced acceleration sensitivity – down to 3×10-10/g in the worst axis – is also available to satisfy high shock or vibration environments and improve performance.
Call Greenray at 717-766-0223 for more information about the YH1485. And visit us at www.greenrayindustries.com for information about our full line of high performance,  precision oscillators.
New T1241 TCXO: Excellent Phase Noise & Low g-Sensitivity for Mobile Apps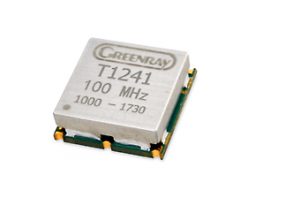 January, 2016  Greenray Industries has announced availability of the high performance T1241 TCXO. The T1241 TCXO features very low g-sensitivity, down to 7 x 10-11/g, and is available from 50 to 100 MHz with CMOS output.
Featuring a ruggedized, go-anywhere package and low current draw, the T1241 TCXO is ideal for demanding mobile applications including airborne and instrumentation. Typical phase noise is -155dBc/Hz @ 10kHz. Contact the factory for full performance and specification data.