The New T1254 TCXO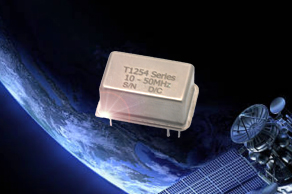 May, 2018 – The T1254 Series features ultra-low g-sensitivity and has been designed for low orbit satellite applications, offering reliable performance to 30krad radiation exposure.
The T1254 TCXO (temperature compensated crystal oscillator), available from 10 to 50MHz, features an extremely rugged, 20.3 mm x 12.7 mm DIP package, CMOS output and supply voltage of +5.0VDC. Acceleration sensitivity is <7x10-10/g (std) or <7x10-11/g (LG option). Please contact Greenray for additional information.
YH1485 OCXO Introduced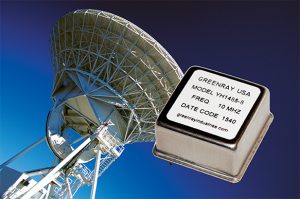 March, 2016  Greenray's new YH1485 OCXO is designed for use as a reference for radar, instrumentation, and military applications that require very low phase noise in order to optimize system sensitivity.
Available from 10 to 100MHz with sinewave output, and best stability of ±0.05ppm, the YH1485 delivers phase noise performance below -175dBc/Hz and excellent short and long term stability. Optional reduced acceleration sensitivity – down to 3×10-10/g in the worst axis – is also available to satisfy high shock or vibration environments and improve performance.
Call Greenray at 717-766-0223 for more information about the YH1485.
New T1241 TCXO: Excellent Phase Noise & Low g-Sensitivity for Mobile Apps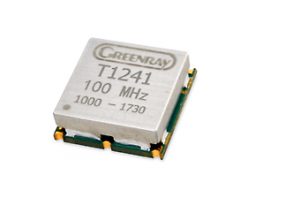 January, 2016  Greenray Industries has announced availability of the high performance T1241 TCXO. The T1241 TCXO features very low g-sensitivity, down to 7 x 10-11/g, and is available from 50 to 100 MHz with CMOS output.
Featuring a ruggedized, go-anywhere package and low current draw, the T1241 TCXO is ideal for demanding mobile applications including airborne and instrumentation. Typical phase noise is -155dBc/Hz @ 10kHz. Contact the factory for full performance and specification data.